K M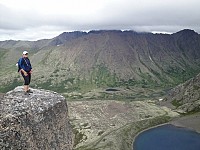 About K:
I am a 24 year old in graduate school at Washington University in St Louis studying physical therapy! I graduate in May and can't wait to be done wit ...read more
Mission Statement:
One day your life will flash before your eyes. Make sure it's worth watching.
Bucket List Item Information
Save a life
"Not sure how this will come about, but I hope I can step up to the plate in the moment."

Completed on 09/21/2016
"Couple of times have found things wrong with patients that doctors have missed and basically saved their lives "

Add This To Your Bucket List
Who Witnessed This Event/Item
Who Else Has This On Their Bucket List
Similiar Bucket List Ideas
Build a real life version of "The Construct" - 05/23/11 (shelton clark jr)
get married to my girlfriend, the love of my life - 04/18/12 (Tanja Magasin)
Find the love of my life - (3) people
Create enough passive income so that you don't have to work another day in my life - 05/23/11 (kim Clark)
Change someone's life - (2) people
Make a life-long friend - 06/28/10 (Amanda Horne)
See a real-life kangaroo - 09/17/11 (eRic Bekhard)
Save 2 PLN a day to be able to spend 2002 PLN on a guilt-free fun day once the challenge is finished - 12/26/10 (Urszula J.)
Set up the Soundtrack to my Life - 03/06/11 (Zimzala )
Convince a Mennonite community to let me live with them for a few day and experience their way of life - 07/11/12 (Chowder Col)