Nathaniel Long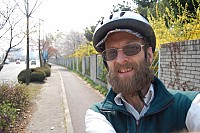 About Nathaniel:
I live to spread the Gospel of Jesus Christ. I am a Southern Baptist. I enjoy working in a variety of services, and have taught morality and dialect ...read more
Mission Statement:
I live to preach the Gospel of Jesus Christ.
Nathaniel's Bucket List
Enlightenment Progress (2/8)
25%
"I have long dreamed of making a program to teach poor children in the evenings for free, using an all-volunteer staff. I want to focus on math, Engli ...read more"

story

7. Learn to play "Take Five," by Paul Desmond, on the piano

"I miss playing the piano, and never developed the fluency I desired from that instrument. I worked on this piece while I was in college, just in my f ...read more"

6. Take 4 tests and pass my first seminary course

Completed on 12/08/2010

"I finished that course, in the history of the Cooperative Program of the Southern Baptist Convention. It was only pass/fail, and I passed. However, ...read more"

"I realize that if I cannot do this, it is unlikely that I will be able to juggle 7 balls 100 times. My personal record for 5 balls (beanbags, actuall ...read more"

4. Write a novel about life in America

"I am a writer, though I have avoided focusing solely on this work. Even now, I do not wish to put aside everything else (stop caring for my children) ...read more"

3. Improve my padook ranking to 3 geup before age 60

"I love padook. South Koreans have dominated the world tournaments over the past decade, despite having a much smaller population than China and Japan ...read more"

Move My Family to the United States

Completed on 04/22/2011

"North Carolina is not so bad about cracking down on people who do not like public schooling. We home school here, as do about 6000 other families in ...read more"

"Juggling is good for me. I sense that if I make this goal, I will juggle more. Sometimes I lack initiative. I am already a fairly good juggler, but ...read more"
Nathaniel's Latest Activity
Live Stream for Nathaniel