Nathaniel Long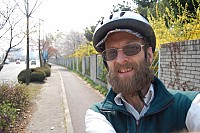 About Nathaniel:
I live to spread the Gospel of Jesus Christ. I am a Southern Baptist. I enjoy working in a variety of services, and have taught morality and dialect ...read more
Mission Statement:
I live to preach the Gospel of Jesus Christ.
Bucket List Item Information
4. Write a novel about life in America
"I am a writer, though I have avoided focusing solely on this work. Even now, I do not wish to put aside everything else (stop caring for my children) and focus on writing. However, I have written all my grown life and have seen it as a strong tool in my outreach to others, Christians and non-Christians alike. I believe the Lord would like for me to put together a novel. I will see what I can do towards that end when my youngest child gets pretty much on his own. Full revelation: I am not sure that I will not adopt children in the future, either. This could provide a conflict. However, it is easy to see that I will not stop writing. I merely need enough time alone to focus on this one considerable task. "

Add This To Your Bucket List
Who Witnessed This Event/Item
Who Else Has This On Their Bucket List
Similiar Bucket List Ideas
Investigate Real Life X-Files - 05/23/11 (shelton clark jr)
Write a cook book to be passed down in my family (to do) - 08/19/11 (Susan F)
write a song for my children - 05/29/10 (Renz Ong)
"Rhythms of Life" Sculpture, Kenya - 04/07/13 (Lance Garbutt)
Risk your life for an something greater than yourself - 12/03/10 (Jake Larsen)
Write a children's book - (6) people
Write my autobiography (sparing no details, hmmm) - (2) people
Write a letter to the editor - 01/19/11 (Fari J)
Go to The Mall of America in Bloomington, Minnesota - 07/05/11 (Devan Zajac)
North America - 04/02/13 (Lance Garbutt)