Susan F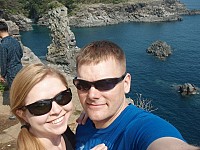 About Susan:
I love to find adventure everywhere. I don't just keep a bucket list, I am always crossing things off. I'm not very picky about my bucket list, if I h ...read more
Mission Statement:
To get as much out of life as I can, try anything at least once, go everywhere I can and don't let a moment slip by. Never say "I wish I would have".
Bucket List Item Information
Celebrate my 5 year anniversary

Completed on 08/23/2016
"We did this by going to Paris and Geneva! One of the best trips of my life! It was great, so happy!"

Add This To Your Bucket List
Viewing details are set to Friends Only
Who Witnessed This Event/Item
Who Else Has This On Their Bucket List
Similiar Bucket List Ideas
21st Year Anniversary – Brass/ Nickel - 08/08/17 (Lance Garbutt)
Celebrate Dia De Los Muertos in Mexico - 07/08/14 (Marsha Roberts)
Spend a year volunteering abroad - 05/27/10 (Jessica Sherman)
Do a good deed every day for a year - 06/09/12 (Katie Cramatte)
Celebrate 50 year anniversary - (3) people
Create a blog and have entries at least once a week for a year - (3) people
Keep a diary for a year - (3) people
Learn a new meal every week for a year (to do) - (2) people
increase my savings each year - 08/23/11 (Megan T)
Win The Australian Of The Year Award - 01/27/14 (Lance Garbutt)