Jirrine Breedijk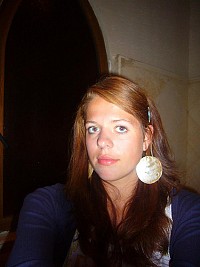 About Jirrine:
I am love with making lists, I make them for every possible reason. However, this bucket list might be one of the most important lists I have made.
Jirrine's Bucket List
Enlightenment Progress (17/216)
7%
Quick Find:
"Finishing this would feel like such an accomplishment! "

story

003. Take snowboarding lessons

"I suck at skiing, so I want to try this other winter sport."

"Currently doing one, meaning to have this finished by the end of the summer."

"I have stagefright and I really want to overcome it."

018. Go Ziplining

Completed on 07/16/2011

"Went to a climbpark today and part of is was ziplining. It was awesome! "

people (1)

"Yoga has always fascinated me, don't know why. I need to find out!"

027. Make a giant puzzle (+1000 pieces)

Completed on 07/04/2011

"Started yesterday and finished my puzzle today. It was a 1000 piece puzzle. I forgot how much I like to make puzzles. Maybe I should buy another one r ...read more"

038. Stay out until daylight

Completed on 06/17/2011

"I have never been an extreme party person, but that I had so much fun with my wonderful friends that the sun was already up when we came out of the cl ...read more"

"Last week I went to Turkey and the hotel had a spa! I went for a traditional Hamam treatment with facemask and massage. It was super relaxing!"

064. Go to London

Completed on 04/04/2011

"London is a fascinating city but my time there was to short. I hope to go back loads of times!"

070. Revisit Dublin

Completed on 01/05/2012

"I went January, 1st and just got back today. I wanted to go back because I was there 3 years ago and I liked it very much and to see someone I had not ...read more"

084. Visit a Holocaust Museum

Completed on 07/28/2011

"Today I went to a Museum in Westerbork which functioned as a camp in the Second World War. The museum was small but I am very glad I went there! "

"By stairs, not taking the elevator here!"

109. Keep track of goals on sharebuckets.com

"Be an active member in a year, so july 2012."

113. Go to Anne Frank huis and Hardrock café Amsterdam with O

Completed on 10/24/2011

"Went last Monday with my BF <3 I was really good to remember this imporant girl again. We had a nice day in Amsterdam. We did go to the Hardrock café ...read more"

116. Go visit the Openluchtmuseum

Completed on 07/02/2011

"Went today with my darling boyfriend. We did not see everything but we had fun and that is what matters!"

118. Go to the biggest zoo in the world

"Berlin has the biggest zoo based on the number of species."

"Misstyped: Auschwitz"

126. Kiss in the rain

Completed on 06/28/2011

"Kissing someone when the rain was pouring down was truly magical :)"

people (2)

129. Get the new home properly decorated

Completed on 09/05/2011

"It has been 2 weeks since I moved in with my bf and I consider this place to be home now! "

139. Write myself a mail via http://www.futureme.org

"I wanna do this on/around my 20th birthday "

people (1)

"I can wear a pretty dress!"

people (1)

144. Visit someone I have not seen for a long time

Completed on 01/03/2012

"After 2,5 years I finally met one of the greatest persons in the world again. I am so happy I got a chance to see her, even if it was only briefly.."

146. Have 150 nail polishes

Completed on 01/05/2012

"I already did it a while ago, but now I know for sure that I passed the 150 mark :)"

147. Catalogue my teabag collection

Completed on 09/24/2011

"I took a while, but I put everything into an Excel spreadsheet.. Finally I know what´s in my binders."

148. Adopt an animal from the shelter

"Every animal deserves a chance."

149. See the Grand Prix of Monaco

"I have been following the F1 for a few years now and I really wanna see a race for real."

150. Randomly hide 50 eggs with Easter

Completed on 04/22/2012

"Cooking has never been my talent. Here is a real challenge to see if I can pull this off. "

153. Read all the Pulitzer prize winner in fiction category

"These books won prizes so the must have something, right?"

people (1)

"It is just a shame that the Harry Potter series has only seven books :("

story

159. Have my own library (+/- 500 books)

"Library of books I have actually read."

people (1)

164. Sing up to goodreads.com and keep track of the books I read

"Have 500 books on my 'read' book list!"

172. Watch every James Bond film (in order!)

"Just because I love James Bond movies!"

story

people (1)

187. Find the perfect leather jacket

Completed on 01/10/2012

"I did! Yesterday was my birthday and today I got to pick out an really beautiful leather jacket! I am so happy with it :). "

197. Spend €100 at Lush in one go

Completed on 10/24/2011

"A dream came true! I am such a big fan of Lush. I love that brand! When I was in Amsterdam last monday, I just had to buy something.. I went home with ...read more"

201. Go to the Harry Potter theme park in Orlando, FL

"I <3 Harry Potter"

people (4)

202. Take a Ballroom dancing course

"I did a ballroom dancing course for three years. I really wanna do it again."

209. Build my own Build-A-Bear

Completed on 01/03/2012

"Was in Dublin where I made my very own Build-A-Bear. I called her Snowy, btw!"
Jirrine's Latest Activity