Michelle Hudson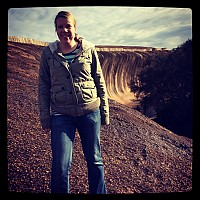 About Michelle:
I love hanging out and going to the beach and surfing even though I'm pretty bad at it. I have had a bucket list since 2005. I'm slowly crossing thing ...read more
Mission Statement:
One day your life will flash before your eyes. Make sure it's worth watching.
Bucket List Item Information
Run through a field of flowers
"This would be cool to do. "

Completed on 09/21/2015
"It wasn't a field but I found these pretty white and pink flowers they were up to my hip in height and there were heaps of them so I just ran through them and it was fun. My clothes smelt really pretty afterwards and the flowers didn't even look like I had run through them. I haven't run through flowers in years it was great fun."

Add This To Your Bucket List
Who Witnessed This Event/Item
Who Else Has This On Their Bucket List
Similiar Bucket List Ideas
dehydrate food and flowers - 08/21/15 (Pete R)
See the Mets at Wrigley Field - 07/21/11 (J Mudd)
Give a bouquet of snap dragon flowers to my fiancee - 12/27/15 (Jaimee-Leigh Wignell)
Field Goal - 10/23/14 (Lance Garbutt)
Receive Flowers Anonymously - 04/06/14 (Steve Morris)
Send flowers anonymously - (11) people
✔Track & Field - 10/10/14 (Lance Garbutt)
Pick a Bouquet of Flowers and leave it on Someone's doorstep - (2) people
Teach myself Anatomy and Physiology (hopefully become an expert in this field :) - 08/29/11 (Maria I)
See the River of flowers in Holland - 01/20/14 (Michelle Hudson)