Susan F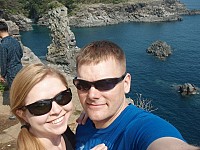 About Susan:
I love to find adventure everywhere. I don't just keep a bucket list, I am always crossing things off. I'm not very picky about my bucket list, if I h ...read more
Mission Statement:
To get as much out of life as I can, try anything at least once, go everywhere I can and don't let a moment slip by. Never say "I wish I would have".
Bucket List Item Information
Jump in a fountain fully clothed (to do)

Completed on 07/04/2013
"Olive wanted to play in the fountain so I jumped in there with her with clothes on."

Add This To Your Bucket List
Viewing details are set to Friends Only
Who Witnessed This Event/Item
Who Else Has This On Their Bucket List
Similiar Bucket List Ideas
Macau Tower sky jump - 04/07/13 (Lance Garbutt)
Trevi Fountain - Rome - 04/03/13 (Lance Garbutt)
Auckland Bridge Bungi Jump - 04/02/13 (Lance Garbutt)
✔Archibald Fountain , Hyde Park - 03/27/13 (Lance Garbutt)
Jump into a pool fully clothed - (4) people
Fountain Place (Dallas, Texas) - 12/27/15 (Susan F)
jump off a waterfall - (6) people
Base jump Angel Falls - 08/08/11 (Bon Joy)
Things to do before you're 11 3/4: Jump Over Waves - 02/21/14 (Steve Morris)
Ira Keller Fountain Park (Portland, Oregon) - 03/12/15 (Susan F)