Kari Garcia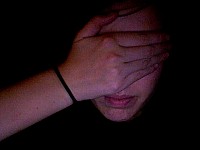 About Kari:
Trying not to write something pretentious or depressing. I'm just another student to the world. Just another lost soul. oops, but aren't we all anyw ...read more
Mission Statement:
My reason for living? love.
Kari's Info
Name:
Kari Garcia
Gender:
Female
Location
City/Town:
818
State/Province:
CA
Country:
United States
Something About Kari
Trying not to write something pretentious or depressing.
I'm just another student to the world.
Just another lost soul. oops, but aren't we all anyway? :o

I am a unique one.
loud, eccentric, charismatic, protective, caring.
I want to celebrate and live my life.
kari in an nutshell.
Kari's Mission Statement
My reason for living? love.
Kari's Interests
Occupation
Pizza Girl
Activities
Anything that makes the day different then the day before.
Music
Almost anything, no lie.
From Lil Wayne to Jonas Brothers. I'm pretty well rounded

no bieber though.
TV Shows
I'm an addict, doesn't matter what's on!
Favorite Movies
Varies from day to day.
Favorite Books
Seuss