eRic Bekhard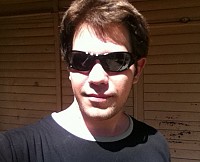 About eRic:
In june of 2010 I decided to quit smoking after 7 years of addiction. It went easy, and I was happy for it. So I wrote the list, to see what else can ...read more
Mission Statement:
They say: My mind is gone. That I'm irresponsible, and suicidal. but I know that nothing can happen to me, what didn't already happened to millions of ...read more
eRic's Info
Name:
eRic Bekhard
Gender:
Male
Location
City/Town:
None
State/Province:
None
Country:
None
Something About eRic
In june of 2010 I decided to quit smoking after 7 years of addiction. It went easy, and I was happy for it. So I wrote the list, to see what else can I achive in my life? And I was depressed for 13 years, so didn't had an easy start. Now... Five months later, I'm traveling around the world, searching for myself and new challenges. I sold the place, which was never a home to me, and putted everything in the same card. And whatever happens: I'm more alive than ever before! If you want to help / join me, or you need some help, contact me. I just might visit you. ;)
eRic's Mission Statement
They say: My mind is gone. That I'm irresponsible, and suicidal. but I know that nothing can happen to me, what didn't already happened to millions of people before. I came to this world the same way as everybody else. I'm energy, just as everything and everybody else, and when the time comes, I will leave this world, as everybody else. These laws didn't born yesterday, and if this isn't make one feel safe and calm, I don't know what is?!
eRic's Interests
Occupation
World-tourist
Activities
Psychology, philosophy, travel, photography, making / watching films, writing, reading, karaoke, learning languages, running, meeting interesting people
Music
So many... For example: The Doors, Pink Floyd, Pixies, Nick Cave and the Bad Seeds, Rammstein, Dub Fx, etc...
TV Shows
Six Feet Under (the ultimate best), LOST, Dexter, Breaking Bad, Friends, TBBT, Chuck, Dr. House, Carnivále, The Wire, OZ
Favorite Movies
Stalker, Solyaris, Offret, Sátántangó, Eternal sunshine of the spotless mind, Dogville, Idioterne, La moustache, La pianiste, American Beauty, The Dreamers, Husbands, Opening Night, Werckmeister Harmonies, A clockwork orange, Eyes Wide Shut, A taste of Cherry, Dancer in the Dark, Sans Soleil, Fando y Lis, El Topo
Favorite Books
Ken Kesey: One few over the cuckoo's nest
Aldous Huxley: Brave New World
Mihály Babits: The Nightmare