Nicholas Todd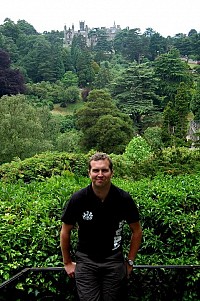 About Nicholas:
I was the creator of a slightly different list back in 2008. Since then the list has spiralled almost out of control but the group I created it with h ...read more
Mission Statement:
With a group of friends I set up a collective bucket list in 2008. We all added the things we wanted to do and whilst with a bit of a competitive edge ...read more
Nicholas's Info
Name:
Nicholas Todd
Gender:
Male
Location
City/Town:
Derby
State/Province:
Derbyshire
Country:
England
Something About Nicholas
I was the creator of a slightly different list back in 2008. Since then the list has spiralled almost out of control but the group I created it with have become vastly different people who have enjoyed the range of experiences.
Life is all about grabbing it with both hands. Don't wait for something to happen. Just do it. Carpe diem and all that.
I'm based in Derby in the UK and if anyone needs any help or advice on anything they're trying to do... I'll be more than happy to help.
Nicholas's Mission Statement
With a group of friends I set up a collective bucket list in 2008. We all added the things we wanted to do and whilst with a bit of a competitive edge we try to beat each other, we also try to help each other accomplish the things. It's a good laugh (if a little expensive at times). We do have a few extra rules on our list. One is that all items ticked off must have a photo. Not always the easiest thing to do, but it brings out the creative side. The second is that we have an extra kudos point if you do it in style. So as the founder of this ridiculous list I thought I'd come and share and see who else was out there.
Nicholas's Interests
Occupation
Surveyor
Activities
I'm now a professional bucket lister. Travel all over the place ticking things off as I go. Rock climbing, scuba diving, ice skating, running, cycling... the usual stuff.
Music
I like a bit of everything ranging from 60's to modern day stuff. Favourite musicians are The Kinks, The Rolling Stones, The Beatles, Oasis, Bruce Springsteen, Oasis, The Killers, Kings of Leon, Nirvana, The Strokes... and on and on.
TV Shows
The Inbetweeners, Peep Show, The Office (UK & US),
Favorite Movies
Forrest Gump, The Green Mile (and pretty much any other Tom Hanks film).
I love the first 2 terminator films.
Favorite Books
The Yes man! (much better than the film)
Catcher in the Rye, Of Mice and Men, Anything by Thomas Harris
Random Photos From Bucket List