Megan Collins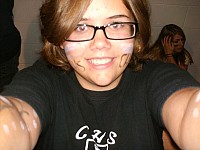 About Megan:
We are young. We run free. Stay up late. We don't sleep. Got our friends. Got the night. We'll be alright. Honestly I don't know who I ...read more
Mission Statement:
'Don't live like there's no tomorrow, that's stupid! But live your life like its a story that you would want to tell someone else; a little fun, a lit ...read more
Megan's Info
Name:
Megan Collins
Gender:
Female
Location
City/Town:
Albany
State/Province:
NY
Country:
United States
Something About Megan
We are young.
We run free.
Stay up late.
We don't sleep.
Got our friends.
Got the night.
We'll be alright.


Honestly I don't know who I am or where I'm going. Join me on the journey?
Megan's Mission Statement
'Don't live like there's no tomorrow, that's stupid! But live your life like its a story that you would want to tell someone else; a little fun, a little exciting, a little sexy and always off-key.'-- Philip DeFranco
Megan's Interests
Occupation
Student
Activities
Anything and Everything...except for school....and swimming with sharks....sharks freak me out.
Music
I will give any music a chance but for the most part I don't seem to like super-country country, rap that doesn't have smart lyrics, and intense screamo.
TV Shows
World of Jenks, FireFly, Skins, The Buried Life, Glee, Raising Hope, Weeds, Doctor Who, TorchWood, 30 Rock,Ouran High School Host Club
Favorite Movies
Mean Girls, Spectacular, Ben X, Kick Ass, Scott Pilgrim vs. The World, The Breakfast Club, 16 Candles, Labyrinth, Risky Business, Scream series
Favorite Books
I love anything by John Green.
Youth in Revolt.
And other than that I pretty much read everything...
Random Photos From Bucket List