Michelle Hudson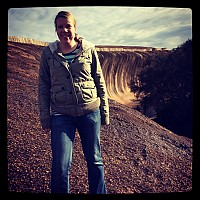 About Michelle:
I love hanging out and going to the beach and surfing even though I'm pretty bad at it. I have had a bucket list since 2005. I'm slowly crossing thing ...read more
Mission Statement:
One day your life will flash before your eyes. Make sure it's worth watching.
Bucket List Item Information
Learn to roll a coin across your knuckles
"So difficult but looks awsome when mastered."

Completed on 06/28/2014
"I can do it with both hands but the right one is much better than the left."

Add This To Your Bucket List
Who Witnessed This Event/Item
Who Else Has This On Their Bucket List
Similiar Bucket List Ideas
Learn how to speak Korean and Filo :) - 04/11/11 (Maake-Ena Afitu)
Make a life altering decision on a dice roll - (13) people
76. learn to play chess - 10/11/10 (Mazzi wheatley)
learn to skii/snowboard - 08/14/11 (Jessica wallis)
Learn how to: Touch Type - 02/26/14 (Steve Morris)
Learn spanish fluently - 01/13/11 (Amber Stanton)
Learn to yodel - (3) people
Learn basic DIY - 10/08/10 (Gemma Phelps)
Learn how to take amazing photos - 12/15/10 (Elissa R)
✔Learn to jump - 02/23/15 (o f)