Susan F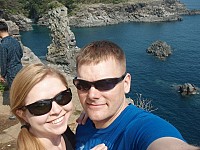 About Susan:
I love to find adventure everywhere. I don't just keep a bucket list, I am always crossing things off. I'm not very picky about my bucket list, if I h ...read more
Mission Statement:
To get as much out of life as I can, try anything at least once, go everywhere I can and don't let a moment slip by. Never say "I wish I would have".
Bucket List Item Information
Sleep in a yurt
"A tent like structure used by nomads, can be at Luana Resort Spa in Hana, Hawaii but willing to do it anywhere"

Add This To Your Bucket List
Viewing details are set to Friends Only
Who Witnessed This Event/Item
Who Else Has This On Their Bucket List
Similiar Bucket List Ideas
Sleep in a treehouse - (3) people
✔sing my child to sleep - 08/23/11 (Megan T)
Sleep on a roof for the night - 12/22/11 (Lyz Betz)
Sleep in an ice hotel - 11/20/11 (Sonja Coleman)
Sleep on the Beach all night - 02/28/14 (Steve Morris)
✔Sleep for 8 Hours (or more) Before Classes Start - 06/04/10 (Missy Muyot)
Sleep under stars - (2) people
Sleep outside for a week - (2) people
✔Travel around Mexico in my car and sleep in the back for 3 months - 06/17/11 (Elle Leontiev)
026. Sleep on the beach - 06/29/11 (Jirrine Breedijk)