Susan F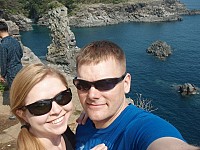 About Susan:
I love to find adventure everywhere. I don't just keep a bucket list, I am always crossing things off. I'm not very picky about my bucket list, if I h ...read more
Mission Statement:
To get as much out of life as I can, try anything at least once, go everywhere I can and don't let a moment slip by. Never say "I wish I would have".
Bucket List Item Information
Sleep in a real castle (to do)
"The older, the better."

Add This To Your Bucket List
Viewing details are set to Friends Only
Who Witnessed This Event/Item
Who Else Has This On Their Bucket List
Similiar Bucket List Ideas
Stay in Cinderella's castle - 11/13/12 (Cally Bastin)
✔Eat a 'real' Chicago style pizza in Chicago - 08/23/10 (Kelly Slingerland)
Montezuma Castle National Monument (Camp Verde, Arizona) - 10/24/14 (Susan F)
Real Mary Kings Close - 04/02/13 (Lance Garbutt)
Sleep under the stars at least once per year each and every year - 10/22/10 (Crystal Allen)
14 To eat a real Philly cheese steak - (2) people
✔Take Magic Classes at the Magic Castle - 04/05/13 (Jodi Gillians)
Sleep under the Northern Lights at Hotel Kakslauttanen, Finland - 01/16/12 (Toni McEvilly)
Have A Drawing turned into real cuddle toys at Child's Own Studio - 07/07/14 (Lance Garbutt)
Sleep in an overnight train - (9) people