Susan F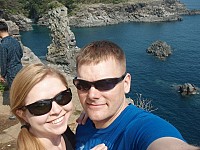 About Susan:
I love to find adventure everywhere. I don't just keep a bucket list, I am always crossing things off. I'm not very picky about my bucket list, if I h ...read more
Mission Statement:
To get as much out of life as I can, try anything at least once, go everywhere I can and don't let a moment slip by. Never say "I wish I would have".
Bucket List Item Information
Red my husband's favorite book and have him read mine
"His: On the Road Mine: Count of Monte Cristo"

Add This To Your Bucket List
Viewing details are set to Friends Only
Who Witnessed This Event/Item
Who Else Has This On Their Bucket List
Similiar Bucket List Ideas
216. Read all '1001 Children books you must read before you die' - 10/29/11 (Jirrine Breedijk)
Have my palms read by a professional - (2) people
69. Eat out alone and just read - 11/26/10 (Jordan Sims)
✔Read Chuck Palahniuk's Fight Club - 06/11/11 (j nadonza)
Create a list of a 100 books and read them - (2) people
✔Book of Secrets. By Deepak Chopra - 08/30/11 (Many Books)
Read the Complete Works of: Poe - 04/06/14 (Steve Morris)
Go to a Book Signing - (6) people
29. Read 100 books on list - (2) people
Visit a Diamond Mine - 02/28/14 (Steve Morris)