Susan F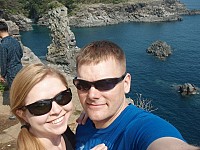 About Susan:
I love to find adventure everywhere. I don't just keep a bucket list, I am always crossing things off. I'm not very picky about my bucket list, if I h ...read more
Mission Statement:
To get as much out of life as I can, try anything at least once, go everywhere I can and don't let a moment slip by. Never say "I wish I would have".
Bucket List Item Information
Create a childhood bucketlist for my daughter

Completed on 08/01/2015
"I add a little to it every now and then but she has 100 things or so I hope she complete before she's 18"

Add This To Your Bucket List
Viewing details are set to Friends Only
Who Witnessed This Event/Item
Who Else Has This On Their Bucket List
Similiar Bucket List Ideas
Get a degree in Music with Childhood & Youth Studies - 07/12/10 (Hazel Martin)
✔See my daughter baptized - 10/25/10 (Brandy Layne)
Create the secret TV series project I'm working on with a friend - 07/22/10 (Pete Sammes)
Take my daughter to get matching pedicures - 03/23/11 (Erin Niedbalski)
Create a Room I Love - 11/07/10 (Rina Iakopo)
✔Create a travel/bucket list blog - 02/06/14 (Susan F)
Create a Bucket List with at Least 25 Items - 01/30/14 (Steve Morris)
✔Create Something Using Watercolors - 12/25/13 (Lance Garbutt)
Create my own film (not a very long one) - 04/24/13 (Chowder Col)
✔Create a video for an organization - 07/11/12 (Nur Haryanti)