Susan F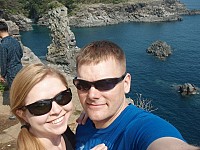 About Susan:
I love to find adventure everywhere. I don't just keep a bucket list, I am always crossing things off. I'm not very picky about my bucket list, if I h ...read more
Mission Statement:
To get as much out of life as I can, try anything at least once, go everywhere I can and don't let a moment slip by. Never say "I wish I would have".
Bucket List Item Information
Sam Houston Statue (Houston, Texas)

Completed on 04/05/2016
"We stopped by here as we left Houston, it's actually in Huntsville, Texas. We had just finished the NCAA final four game and were driving to Oklahoma."

Add This To Your Bucket List
Viewing details are set to Friends Only
Who Witnessed This Event/Item
Who Else Has This On Their Bucket List
Similiar Bucket List Ideas
Alamo Texas - 02/10/19 (Corinne ~)
Go to the Houston livestock show and rodeo - 08/12/12 (Johnny Gonzales)
Visit Texas - (4) people
The High Five Interchange - Dallas, Texas - 08/23/14 (Lance Garbutt)
Cow Town Cattle Pen Maze (Fort Worth, Texas) - 02/10/15 (Susan F)
Visit Statue of Liberty - (7) people
See Hans Christian Anderson Statue (Copenhagen, Denmark) - 11/22/11 (Susan F)
✔Shop at the Galleria (Houston, Texas) - 03/30/16 (Susan F)
✔See the Alice in Wonderland Statue in Centeral Park - 01/21/13 (Taylor <3 )
See The Texas Rangers, The Dallas Mavericks, and The Dallas Cowboys(: - 04/09/11 (Autie Barnes)