Susan F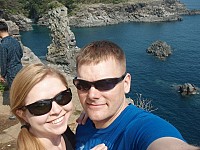 About Susan:
I love to find adventure everywhere. I don't just keep a bucket list, I am always crossing things off. I'm not very picky about my bucket list, if I h ...read more
Mission Statement:
To get as much out of life as I can, try anything at least once, go everywhere I can and don't let a moment slip by. Never say "I wish I would have".
Bucket List Item Information
San Antonio Missions National Historical Park (San Antonio, Texas)

Completed on 06/26/2015
"We went here during a family reunion. We went with my mom and her friend, my great aunt and uncle from Michigan, my cousins from Germany and my aunt from New Mexico. It was fun and very informative but hard going with a large group like that."

Add This To Your Bucket List
Viewing details are set to Friends Only
Who Witnessed This Event/Item
Who Else Has This On Their Bucket List
Similiar Bucket List Ideas
Wings Wildlife Park - 04/02/13 (Lance Garbutt)
Go to Big Basin Redwoods State Park (California) - 03/28/14 (Susan F)
Highline Trail (Glacier National Park, Montana) - 01/31/16 (Susan F)
Go to 10 National Battlefields/Park/Sites - 07/23/14 (Susan F)
Go to Yosemite national park - (2) people
Visit the Fiordland National Park in NZ - 07/08/14 (Marsha Roberts)
✔Visit Grand Canyon National Park - 09/23/13 (L. Waldorf)
Go to Texas - (3) people
Texas Prison Museum - 04/21/17 (Megan Nicole)
Own a Texas sized belt buckle - 06/13/13 (Johnny Gonzales)