Susan F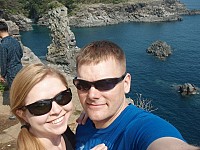 About Susan:
I love to find adventure everywhere. I don't just keep a bucket list, I am always crossing things off. I'm not very picky about my bucket list, if I h ...read more
Mission Statement:
To get as much out of life as I can, try anything at least once, go everywhere I can and don't let a moment slip by. Never say "I wish I would have".
Bucket List Item Information
Go to World's Largest Truckstop, Iowa 80 (Walcott, Iowa)
"755 W Iowa 80 Rd, Walcott, IA 52773"

Add This To Your Bucket List
Viewing details are set to Friends Only
Who Witnessed This Event/Item
Who Else Has This On Their Bucket List
Similiar Bucket List Ideas
Ride the ten largest rollar coasters in the world - 03/28/11 (Katt Bajjani)
War of the Worlds - 10/09/15 (Lance Garbutt)
Buy the largest pumpkin at the pumpkin patch - 02/24/17 (Megan Nicole)
Ride the 10 largest roller coasters in the world - (3) people
Go to the top of the worlds tallest building - 08/01/12 (Johnny Gonzales)
Swim in the largest pool in the world - 08/02/10 (Sarah Diehm)
Ride the largest/fastest roller coaster in the world - 08/28/10 (Amanda Foster)
go to salar de uyuni, bolivia to see the largest salt flat - (2) people
Visit Iowa - (3) people
See the worlds largest tree - 08/20/12 (Johnny Gonzales)