Susan F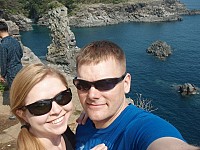 About Susan:
I love to find adventure everywhere. I don't just keep a bucket list, I am always crossing things off. I'm not very picky about my bucket list, if I h ...read more
Mission Statement:
To get as much out of life as I can, try anything at least once, go everywhere I can and don't let a moment slip by. Never say "I wish I would have".
Bucket List Item Information
Go to the famous Irma Hotel (Cody, Wyoming)

Completed on 10/16/2013
"We went here on our Yellowstone Trip! We stayed in Cody, we watched a gun show outside the hotel and than we ate dinner there another night. So much history!"

Add This To Your Bucket List
Viewing details are set to Friends Only
Who Witnessed This Event/Item
Who Else Has This On Their Bucket List
Similiar Bucket List Ideas
Sandcastle Hotel - 08/24/14 (Lance Garbutt)
Become youtube famous - 12/17/11 (Caroline Kulikowski)
Hotel de Vrouwe van Stavoren - 08/24/14 (Lance Garbutt)
Become a Famous Food Critic - 05/10/10 (Michelle Newman)
Stay at the Burj Al Arab Hotel - 03/29/14 (Steve Morris)
Eat Rocky Mountian Oysters in the Rockies (British Columbia Canada, Alberta Canada, Idaho, Montana, Wyoming, Utah, Colorado, New Mexico) - 07/11/11 (Susan F)
✔Mermaid show at Silverton Hotel, Vegas - 09/12/19 (Corinne ~)
Get the right pair of boots from a famous Texas shop - 09/02/12 (Johnny Gonzales)
Stay in an underwater hotel - (2) people
WALK AROUND DRESSED UP LIKE A FAMOUS CHILDREN'S CHARACTER - 12/31/10 (Melissa B)