Susan F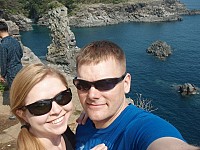 About Susan:
I love to find adventure everywhere. I don't just keep a bucket list, I am always crossing things off. I'm not very picky about my bucket list, if I h ...read more
Mission Statement:
To get as much out of life as I can, try anything at least once, go everywhere I can and don't let a moment slip by. Never say "I wish I would have".
Bucket List Item Information
Grand Teton National Park (Moose, Wyoming)

Completed on 09/24/2014
"We were staying in Cody, Wyoming and visiting Yellowstone for a few days. We went down to visit Grand Tetons for a day and it was so beautiful!"

Add This To Your Bucket List
Viewing details are set to Friends Only
Who Witnessed This Event/Item
Who Else Has This On Their Bucket List
Similiar Bucket List Ideas
See the Alice in Wonderland statue in Central Park - (6) people
Insano waterslide is located at the Beach Park in Fortaleza, Brazil - 05/15/13 (Lance Garbutt)
Visit Waza National Park - (2) people
Chamizal National Memorial (El Paso, Texas) - 10/13/14 (Susan F)
✔Koala Conservation Park , Phillip Island - 10/17/14 (Lance Garbutt)
Craters of the Moon National Monument & Preserve (Arco, Idaho) - 11/14/14 (Susan F)
See the National Aquatic Center (Beijing, China) - 03/18/12 (Susan F)
Ozark National Forest (Hagarville, Arkansas) - 10/30/14 (Susan F)
✔Everglades National Park (Homestead, Florida) - 05/09/14 (Susan F)
Colorado National Monument (Fruita, Colorado) - 10/20/14 (Susan F)