Susan F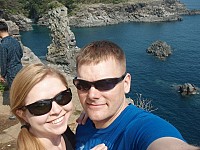 About Susan:
I love to find adventure everywhere. I don't just keep a bucket list, I am always crossing things off. I'm not very picky about my bucket list, if I h ...read more
Mission Statement:
To get as much out of life as I can, try anything at least once, go everywhere I can and don't let a moment slip by. Never say "I wish I would have".
Bucket List Item Information
Drink 25 different types of drinks or cocktails
"1] Frozen Strawberry Margarita 2] Redd's Wicked Apple Ale 3] 16 different types of Coke from all around the world at the Coca Cola store in Las Vegas. 4] 5 different types of Leinenkugal beer 5] An Old Fashion"

Add This To Your Bucket List
Viewing details are set to Friends Only
Who Witnessed This Event/Item
Who Else Has This On Their Bucket List
Similiar Bucket List Ideas
Drink 15 Different Beers - 04/13/14 (Steve Morris)
drink a vintage wine - 09/30/11 (Courtney Newell)
Drink at least 6 glasses of water each day - (5) people
Visit Machu Picchu and drink hot chocolate - 05/12/13 (Sherri Campbell)
Drink wine infront of the eiffle tower - 09/11/11 (zander schmidt)
Drink Kopi Luwak - (3) people
Eat different types of food: Wild Mushrooms - 01/31/14 (Steve Morris)
✔Invite your neighbour round for a drink and a chat - 10/03/13 (Lance Garbutt)
✔Drink an egg cream - 07/07/14 (Marsha Roberts)
Drink 25 Different Beers - 04/13/14 (Steve Morris)