Susan F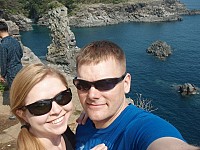 About Susan:
I love to find adventure everywhere. I don't just keep a bucket list, I am always crossing things off. I'm not very picky about my bucket list, if I h ...read more
Mission Statement:
To get as much out of life as I can, try anything at least once, go everywhere I can and don't let a moment slip by. Never say "I wish I would have".
Bucket List Item Information
Find a heart shaped stone

Completed on 08/27/2016
"I found it in Lake Geneva, Switzerland! It was smooth and shaped like a heart on our anniversary trip!"

Add This To Your Bucket List
Viewing details are set to Friends Only
Who Witnessed This Event/Item
Who Else Has This On Their Bucket List
Similiar Bucket List Ideas
Dig for gems and find a treasure - 11/20/10 (Janel Metcalf)
95) RUN INTO AN EX-BOYFRIEND AFTER I HAVE BECOME SKINNY AND WATCH HIM EAT HIS HEART OUT - 01/21/12 (Marisa M)
Find a real arrowhead - 07/03/14 (Aimee Cser)
Find a missing person - (3) people
Find and begin visiting a lonely old person regularly - 09/22/10 (N T)
Make Coconut Ice Cream (Find Recipe) - 02/23/11 (Janell Brockaway)
See the Omphalos stone at Delphi - 07/28/12 (Johnny Gonzales)
find "the group" - 12/07/11 (hannah fray)
✔Find the #1 Song on the Day You Were Born - http://playback.fm/birthday-song - 01/03/16 (Lance Garbutt)
Find God - 05/28/10 (Jessica Engwis)