Susan F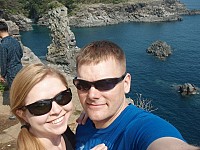 About Susan:
I love to find adventure everywhere. I don't just keep a bucket list, I am always crossing things off. I'm not very picky about my bucket list, if I h ...read more
Mission Statement:
To get as much out of life as I can, try anything at least once, go everywhere I can and don't let a moment slip by. Never say "I wish I would have".
Bucket List Item Information
Northern Most Point in the contiguous United States (Northwest Angle Inlet in Lake of the Woods, Minnesota)

Completed on 08/22/2015
"We stayed in Warroad, MN and drove up there. It was kind of funny because you have to go to Canada and then back to the US and when you do you have to phone in to boarder crossing. We didn't see too much because it started to hail! And we can't get the mud off my car lol but I loved it, so glad Carson took me up there for our anniversary."

Add This To Your Bucket List
Viewing details are set to Friends Only
Who Witnessed This Event/Item
Who Else Has This On Their Bucket List
Similiar Bucket List Ideas
Visit all Fifty of the United States - (2) people
Visit all 50 states in the USA - 09/12/11 (Bon Joy)
Yellow House - Potts Point - 03/26/13 (Lance Garbutt)
See Lake Baikal (Russia) - 07/11/11 (Susan F)
kayak lake louise in canada - (2) people
Westernmost Point in the contiguous United States (Cape Alava, Washington) - 01/26/15 (Susan F)
Live in a cottage in the woods - 09/15/16 (Katrina Marchant)
Ice Skate on a Frozen Lake/Pond - 09/16/11 (Corinne ~)
visit smallest town in United States - 08/04/11 (Shay Cook)
Visit all 50 states before I pass 50 - 11/11/10 (S.A. Mar)