Michelle Hudson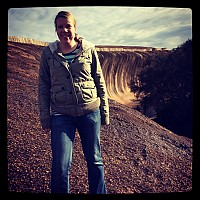 About Michelle:
I love hanging out and going to the beach and surfing even though I'm pretty bad at it. I have had a bucket list since 2005. I'm slowly crossing thing ...read more
Mission Statement:
One day your life will flash before your eyes. Make sure it's worth watching.
Bucket List Item Information
Take a photo of the same place every day for a year to see the change
"I have this favourite place to walk through with really cool trees so that's where I'm going to do this."

Completed on 01/04/2016
"I took the picture from my bed room window when I moved into my new house. I ended up with a really nice view of the Joondalup wetlands from the second story. I got some really cool sunsets, clouds, and storms over the year. I spent a lot of time looking out my window for the past year which is really nice. I now just need to get an awesome camera because there were some really awesome pictures but my iPhone just wouldn't pick it up unfortunately."

Add This To Your Bucket List
Who Witnessed This Event/Item
Who Else Has This On Their Bucket List
Similiar Bucket List Ideas
Thirteenth Year, The - 05/23/14 (Lance Garbutt)
Have a Photo with Marvin the Martian - 11/05/15 (Lance Garbutt)
Have my photo taken with: A Red Panda - 02/15/14 (Steve Morris)
Walk Run 1000 miles in one Year - 01/06/19 (j nadonza)
✔Run 1 Race A Month For 1 Year ( 12 Races) - 10/08/13 (Lance Garbutt)
Put three dollars away every single day for a year - 04/12/12 (Selena Atlantis)
Be in a place financially where I can give 50% of income away - 03/29/12 (Terese Kessler)
Do some sort of physical exercise for 20 minutes, every day, for a year - 10/22/13 (Lance Garbutt)
1) make a blog for our 2010 bucket list ✓ DONE (I know it's not 2010 yet, but we need it ready for the new year.) 2) Get kicked out of Walmart (333 ways), and check them off as we go. 3) Reverse pickpocket someone with $5. 4) Watch a movie in theatr - (2) people
Have a Photo with Yosemite Sam - 11/05/15 (Lance Garbutt)