Joseph Reyes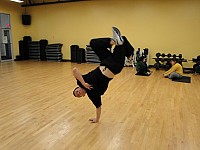 About Joseph:
"Expect the Unexpected" Check out my blogpage http://enigma2485x.blogspot.com/2010/02/101-things-to-do-list-before-i-die.html
Mission Statement:
Complete my bucketlist, share ideas and learn from others.
Joseph's Bucket List
Enlightenment Progress (2/16)
12%
Quick Find:
Sing at an open mic night

Completed on 01/17/2011

photos (1)

people (1)

"When I become rich and Have extra budget. This is the effect of watching Rated r movies with violence."

Learn to play guitar

Completed on 05/11/2010

"Actually learned it the beginning of the year(2010)...Im already playing on beginner open mic nights with my fave cover songs for now. "

"Still practicing at a Beginner open mic nights, working on it...haha...still shaky."

people (1)

"who doesn't like Stewart?"

Play a match with 2 famous tennis players

"I've been playing tennis since grammar school and now a tennis coach, something I want to accomplish soon."

comments (1)

"I wanted to play this instrument since I was little."

people (75)

Throw a crazy insane big event

"I've been throwing small events and joining forces with other people, still trying to gain more experience for the bigger picture."

"I want to become one of her dancer someday while im still young."

"Always planning this with my friends, but never ever happened."

people (14)

"Everyone likes to tell their story, some don't, but I do and this is something I want to accomplish later on with my life."

people (138)

"I've been Blogging for almost two years now, met a lot people online who does the same, Plus I enjoy writing my thoughts about everything."

people (3)

Visit the "Great Wall OF China"

"Never been to China, Definitely on of the place I want to go, and I see it in so many movies."

people (1)

Climb one of tallest mountain in the world

"Number two on my list. I've watched too many movies with big mountains in the past which got me motivated."

Run one of the biggest marathon in the country

"this is the number one my list. I've always wanted to join one and I love running as part of my daily exercise."