Kaylee Meek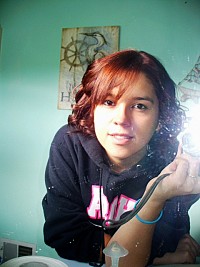 About Kaylee:
I plan to do everything on my Bucket List before I kick the bucket...
Mission Statement:
Never let someone or something get in the way of what you want; it's yours for the taking so take it and enjoy it.
Bucket List Item Information
Make a New Year's resolution and stick to it
"Now THAT is something difficult to acheive. New Year's just happened so I suppose I can keep my resolution going until the end of this year at least"

Add This To Your Bucket List
Who Witnessed This Event/Item
Who Else Has This On Their Bucket List
Similiar Bucket List Ideas
Make a pair of stilts - 07/28/12 (Johnny Gonzales)
make 100 million dollars - 08/05/10 (S K)
Make a difference in at least one person's life for the better - 12/30/10 (Teri Foureyes-Awasis)
Make a bird house - (2) people
Make a Model Car - (3) people
✔21. Make a handmade greeting card - 07/16/10 (Annette White)
Make a boomerang - 08/20/12 (Johnny Gonzales)
Make A Rainbow Cake - (2) people
Learn how to: Make Noodles - 02/22/14 (Steve Morris)
make aioli from scratch - 07/22/10 (Pip Stoneham)