Michelle Hudson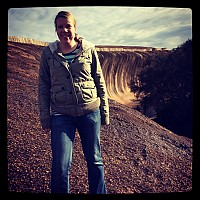 About Michelle:
I love hanging out and going to the beach and surfing even though I'm pretty bad at it. I have had a bucket list since 2005. I'm slowly crossing thing ...read more
Mission Statement:
One day your life will flash before your eyes. Make sure it's worth watching.
Bucket List Item Information
Make melted crayon art
"I think it looks really cool and will be fun to do."

Completed on 05/20/2014
"It took me a couple hours but it was fun and I love it."

Add This To Your Bucket List
Who Witnessed This Event/Item
Who Else Has This On Their Bucket List
Similiar Bucket List Ideas
Make some sort of keepsake for my daughter using all of her dance costumes - 01/04/11 (Melissa McKay)
Make something from pinterest - 04/29/12 (Megan Gull)
Make my own Chess Board - 02/20/14 (Steve Morris)
Make Traditional Lemonade - 04/08/14 (Steve Morris)
Make a return trip to Ireland - with the kids - 08/01/11 (Shannon Bieger)
Make Home Made Pest Repellent - 09/29/16 (Lance Garbutt)
learn to make monkey bread - 08/24/11 (Megan T)
141. Make albums with my childhood photo's - 06/29/11 (Jirrine Breedijk)
Make my own wine - (3) people
Make fire 10 different ways with no matches or lighters out of necessity - 07/11/12 (Chowder Col)