Michelle Hudson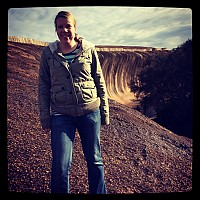 About Michelle:
I love hanging out and going to the beach and surfing even though I'm pretty bad at it. I have had a bucket list since 2005. I'm slowly crossing thing ...read more
Mission Statement:
One day your life will flash before your eyes. Make sure it's worth watching.
Bucket List Item Information
Finish a bottle of nail polish
"I have never been able to do this. I always get sick of the colour or it dry's out."

Completed on 09/20/2015
"I finally finished one, it was a pretty peach with glitter one. This is a hard one because as a nurse you can't wear nail polish so I don't usually have it on. I enjoyed crossing this one off even if I could only have it on for a few days."

Add This To Your Bucket List
Who Witnessed This Event/Item
Who Else Has This On Their Bucket List
Similiar Bucket List Ideas
Finish a Marathon - (11) people
Eat food from around the world: Polish Sausage in Poland - 01/31/14 (Steve Morris)
10.Finish a marathon in just under 3hours - 04/20/11 (Shane Nolan)
Make a Ship in a Bottle - (2) people
✔Finish CT PL in 2012 - 12/04/11 (Aissa Aragon)
Finish scrapbook - 08/24/10 (Sarah Dowell)
send love note out to sea in bottle - 08/04/11 (Shay Cook)
Drink from a 20+ year old bottle of alcohol - (2) people
Finish decorating the house - 01/03/11 (Dream Big!)
Make my own bottle of wine - 07/25/10 (Breana Tinney)