Michelle Hudson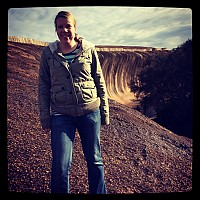 About Michelle:
I love hanging out and going to the beach and surfing even though I'm pretty bad at it. I have had a bucket list since 2005. I'm slowly crossing thing ...read more
Mission Statement:
One day your life will flash before your eyes. Make sure it's worth watching.
Bucket List Item Information
Finish setting my room up into a home

Completed on 07/02/2014
"I added this on because last week I was feeling really home sick. I have now added pictures, posters, flags, and other decretive items. I don't feel so home sick now, and my room looks really cool."

Add This To Your Bucket List
Who Witnessed This Event/Item
Who Else Has This On Their Bucket List
Similiar Bucket List Ideas
Make Home Made Leather Cleaner - 09/28/16 (Lance Garbutt)
✔Finish CT PL in 2012 - 12/04/11 (Aissa Aragon)
Finish a scrapbook - 07/25/10 (Kris Grove)
Finish decorating the apt - 04/03/11 (Catherine April)
Eat the UK Home Nation National Dish: Northern Ireland – Ulster Fry - (2) people
Finish organizing my great grandmother, grandmother and father's photos (to do) - 08/19/11 (Susan F)
✔Finish Reading Atlas Shrugged - 10/02/10 (j nadonza)
Keep my room clean for at least a month - 12/31/10 (Josie Nada)
Own a home in the woods with lots of land, a pool, and giant backyard bbq - 10/27/10 (n H)
leave ensigns at home with articles marked - 08/24/11 (Megan T)