Susan F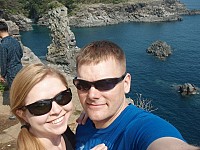 About Susan:
I love to find adventure everywhere. I don't just keep a bucket list, I am always crossing things off. I'm not very picky about my bucket list, if I h ...read more
Mission Statement:
To get as much out of life as I can, try anything at least once, go everywhere I can and don't let a moment slip by. Never say "I wish I would have".
Bucket List Item Information
Visit The Safe House (Milwaukee, Wisconsin)

Completed on 08/01/2015
"We went for my birthday! It was fun and cute and very cheesy but the food wasn't that good nor was the service. I enjoyed all the hidden passageways and fun things you could do and I loved the missions! Defiantly a fun thing to do once but probably not something to do over and over."

Add This To Your Bucket List
Viewing details are set to Friends Only
Who Witnessed This Event/Item
Who Else Has This On Their Bucket List
Similiar Bucket List Ideas
Visit Alcatraz - (2) people
VIsit Sea of Stars, Vaadhoo Island, Maldives - 03/28/14 (Michael Hill-Jackson)
Visit Saskatawan - 03/15/14 (Steve Morris)
Visit Nepal - 10/16/13 (Lance Garbutt)
✔Visit Gene Autry Museum - 10/11/10 (j nadonza)
Visit Union Station - (2) people
✔Family reunion at a beach house - 06/23/10 (Jan Orga)
Build a tree house for my son - 01/01/12 (Julie S)
✔visit william wallace monument scotland - 06/04/13 (Lance Garbutt)
✔Visit a Hamam in Turkey - 10/24/10 (Petra Joy)