Susan F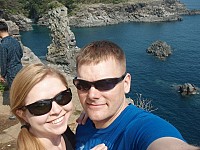 About Susan:
I love to find adventure everywhere. I don't just keep a bucket list, I am always crossing things off. I'm not very picky about my bucket list, if I h ...read more
Mission Statement:
To get as much out of life as I can, try anything at least once, go everywhere I can and don't let a moment slip by. Never say "I wish I would have".
Bucket List Item Information
Create a travel/bucket list blog

Completed on 02/09/2014
"It's called "Bucket, Let's Do List" Check it out http://bucketletsdolist.blogspot.com/"

Add This To Your Bucket List
Viewing details are set to Friends Only
Who Witnessed This Event/Item
Who Else Has This On Their Bucket List
Similiar Bucket List Ideas
Create My Own Room Spray - 11/09/15 (Lance Garbutt)
find someone willing and able to complete this list for me in the event of my untimely death - (2) people
Create your Family Tree - (4) people
Travel destination: Tuscany, Italy - 08/05/13 (Christina Christensen)
✔Create a piece of art I love - 06/07/11 (Rebecca Gallagher)
✔Travel destination: Paris, France - 08/05/13 (Christina Christensen)
Throw a dart on a map of australia and travel there - 05/02/11 (Mandy Tivnan)
Complete 600 items on the bucket list (to do) - 11/27/11 (Susan F)
Reach 1000 items of things to do on my bucket list - 07/28/12 (Johnny Gonzales)
Create and host a Trivia Night for a good cause - 02/28/12 (Nicole Black)