Ashley Holden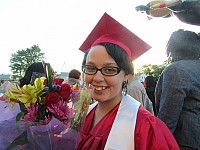 About Ashley:
Hi! I'm Ashley, 20 y.o. Married to my amazing infantryman and expecting our daughter summer 2015.
Mission Statement:
YOLO! You only live once: do what you want, what you love, and what you have the ability to do. Take advantage of the capabilities that you have. Don' ...read more
Bucket List Item Information
Go skydiving
"My mom has always wanted to, but medical reasons now prevent her from doing so. So I've decided to take her place and do it for her - despite being deathly afraid of heights. <3"

Add This To Your Bucket List
Viewing details are set to Members Only
Who Witnessed This Event/Item
Who Else Has This On Their Bucket List
Similiar Bucket List Ideas
Go bunjee jumping, skydiving or hang gliding - 01/13/11 (Misty Hawes-Owen)
48. Go skydiving - 03/13/11 (Emma McD)
016. Go skydiving - 06/29/11 (Jirrine Breedijk)
14. Go skydiving - 12/12/10 (Shane Nolan)
Go Skydiving in a Wind Tunnel - 12/07/11 (Aissa Aragon)
I want to go skydiving in alaska - 02/14/13 (Sally Barker)
Take a ride in an indoor skydiving wind tunnel - 07/13/12 (Johnny Gonzales)
✔Go indoor skydiving (to do) - 08/19/11 (Susan F)
Skydiving/Wing suit - 09/03/12 (Caroline Olmstead)
Indoor skydiving - (2) people