Susan F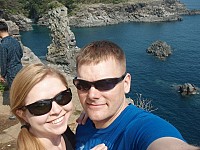 About Susan:
I love to find adventure everywhere. I don't just keep a bucket list, I am always crossing things off. I'm not very picky about my bucket list, if I h ...read more
Mission Statement:
To get as much out of life as I can, try anything at least once, go everywhere I can and don't let a moment slip by. Never say "I wish I would have".
Bucket List Item Information
Go indoor skydiving (to do)

Completed on 12/31/2014
"Great way to end the year! Went indoor skydiving at iFly in Orlando, FL. Best thing I've crossed off my bucket list so far!"

Add This To Your Bucket List
Viewing details are set to Friends Only
Who Witnessed This Event/Item
Who Else Has This On Their Bucket List
Similiar Bucket List Ideas
Skydiving - (23) people
Indoor Ferris Wheel at Times Square Toys'r'us (New York City, New York) - 02/18/15 (Susan F)
Go Skydiving - (97) people
14. Go skydiving - 12/12/10 (Shane Nolan)
Get my husband to go skydiving with me - 03/23/11 (Erin Niedbalski)
Skydiving/Wing suit - 09/03/12 (Caroline Olmstead)
Indoor skydiving - (2) people
Go Skydiving in a Wind Tunnel - 12/07/11 (Aissa Aragon)
Indoor Skydive - (5) people
See My Bloody Valentine in an indoor venue - 12/27/12 (Alex Bier)