Susan F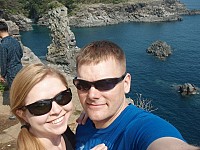 About Susan:
I love to find adventure everywhere. I don't just keep a bucket list, I am always crossing things off. I'm not very picky about my bucket list, if I h ...read more
Mission Statement:
To get as much out of life as I can, try anything at least once, go everywhere I can and don't let a moment slip by. Never say "I wish I would have".
Bucket List Item Information
See Wall Drug (Wells, South Dakota)

Completed on 09/27/2013
"Carson, Olive and I saw this on our way to Rapid City from Badlands National Park."

Add This To Your Bucket List
Viewing details are set to Friends Only
Who Witnessed This Event/Item
Who Else Has This On Their Bucket List
Similiar Bucket List Ideas
"The Heart River" is a tributary of the Missouri River, approximately 180 mi (290 km) long, in western North Dakota in the United States - 05/27/13 (Lance Garbutt)
South India trip with family - 07/21/12 (jai prakash singh)
Cape of Good Hope, South Africa - 05/17/13 (Lance Garbutt)
absolve a training for drug therapy or arts therapy - 04/18/12 (Tanja Magasin)
Abseiling Ascending a Wall - 09/15/14 (Lance Garbutt)
Charles Pinckney National Historic Site (Charleston, South Carolina) - 09/04/14 (Susan F)
Visit the "Great Wall OF China" - (2) people
Travel around South America - (2) people
Visit great wall of china - 03/16/11 (Alexis W)
Ski to the South Pole - 09/01/12 (Caroline Olmstead)