Michelle Hudson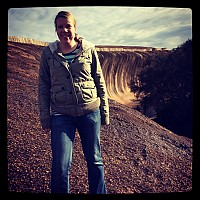 About Michelle:
I love hanging out and going to the beach and surfing even though I'm pretty bad at it. I have had a bucket list since 2005. I'm slowly crossing thing ...read more
Mission Statement:
One day your life will flash before your eyes. Make sure it's worth watching.
Bucket List Item Information
Climb the Sydney habour bridge
"To see the great view from the top."

Completed on 06/06/2012
"The views were amazing, I'm glad I finally did it. But this was scarier than skydiving, I don't think I will be doing it again."

Add This To Your Bucket List
Who Witnessed This Event/Item
Who Else Has This On Their Bucket List
Similiar Bucket List Ideas
Climb to top of Mt. St. Helens with friend - 08/27/13 (Tom Metcalf)
Ride Trams Sydney - 03/30/13 (Lance Garbutt)
Theogefiro (Gods bridge) {Zitsa, Greece) - 12/15/17 (Susan F)
Climb Mt Edith Cavell - 07/10/11 (Keith Fudurich)
See the Golden Gate Bridge - (8) people
Shaharah Bridge (Shaharah, Yemen) - 03/15/15 (Susan F)
Climb a tall palm tree (no ropes or anything) - (2) people
Climb a mountain - (51) people
✔Narrabeen All Nighter in Sydney, NSW - 12/03/13 (Lance Garbutt)
True Grit near Sydney - 08/11/14 (Lance Garbutt)