Susan F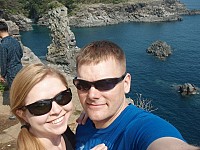 About Susan:
I love to find adventure everywhere. I don't just keep a bucket list, I am always crossing things off. I'm not very picky about my bucket list, if I h ...read more
Mission Statement:
To get as much out of life as I can, try anything at least once, go everywhere I can and don't let a moment slip by. Never say "I wish I would have".
Bucket List Item Information
Kiss Carson at midnight on New Years Eve (to do)

Completed on 12/31/2011
"We were in Seoul, South Korea. We were in our hotel room at midnight but we spent the night going on a romantic walk along the Han River."

Add This To Your Bucket List
Viewing details are set to Friends Only
Who Witnessed This Event/Item
Who Else Has This On Their Bucket List
Similiar Bucket List Ideas
Kiss a boy on new years - 01/01/12 (Samantha Sobek)
Chinese New Years - 03/31/13 (Lance Garbutt)
✔"spiderman" kiss - 08/04/11 (Shay Cook)
Kiss Someone While it's Snowing - 03/27/14 (Steve Morris)
Watch the AFI´s 100 Years ... 100 Movies list - 12/22/11 (Renée )
✔Host a New Years Party - 05/07/12 (Corinne ~)
Have my first kiss - (5) people
Go on a midnight walk on the beach (to do) - 07/14/11 (Susan F)
Have a conversation with someone at least 100 years old - (3) people
kiss a girl - (5) people