Susan F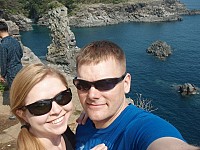 About Susan:
I love to find adventure everywhere. I don't just keep a bucket list, I am always crossing things off. I'm not very picky about my bucket list, if I h ...read more
Mission Statement:
To get as much out of life as I can, try anything at least once, go everywhere I can and don't let a moment slip by. Never say "I wish I would have".
Bucket List Item Information
Become 100% debt free (to do)

Completed on 03/23/2012
"We have everything paid off! No mortgage, car payments, credit card debt or student loans! Only bills coming in are utilities! "

Add This To Your Bucket List
Viewing details are set to Friends Only
Who Witnessed This Event/Item
Who Else Has This On Their Bucket List
Similiar Bucket List Ideas
Make a "FREE HUGS" shirt and wear it all day - (5) people
Pay off all of my student debt - 05/21/14 (Puzzle Lawson)
Write meaningful words on paper and set them free - 06/14/10 (Jennifer Cochrane)
Financial - Be debt free - 08/10/11 (Carroll VerSteeg)
Have my own apartment with full washer/dryer, central air, and free parking in a suburban area - 06/19/11 (JumpyLib Surfer)
Make 17 free throws in a row - (2) people
Go 24 hours media-free - 08/17/10 (Valeriia Levine)
Save 2 PLN a day to be able to spend 2002 PLN on a guilt-free fun day once the challenge is finished - 12/26/10 (Urszula J.)
3. get a job that I would do for free - 10/10/10 (Mazzi wheatley)
Be 100% debt free - (7) people