Susan F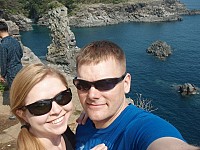 About Susan:
I love to find adventure everywhere. I don't just keep a bucket list, I am always crossing things off. I'm not very picky about my bucket list, if I h ...read more
Mission Statement:
To get as much out of life as I can, try anything at least once, go everywhere I can and don't let a moment slip by. Never say "I wish I would have".
Bucket List Item Information
Visit New York

Completed on 12/26/1998
"While we were having Christmas in Philly, mom, Justin, his girlfriend Polly, aunt Sandy and I drove to New York City for the day. Went there again on October 13 to 16 2012 with Carson. Yes B"

Add This To Your Bucket List
Viewing details are set to Friends Only
Who Witnessed This Event/Item
Who Else Has This On Their Bucket List
Similiar Bucket List Ideas
Visit Ibiza - 03/12/14 (Steve Morris)
Visit a St. Patrick's Day Parade - (2) people
✔Visit Cahokia Mounds - 07/12/17 (Jennifer Rodriguez)
Visit Paris in the Summer Time - 04/19/11 (Samantha Longmire)
Visit Holland and Ireland - 03/18/14 (Shane McKellep)
312. Visit Parc National de Volcans - 03/16/11 (Emma McD)
Visit San Francisco - (5) people
✔Visit Site Ned Kelly (Glenn Rowen) - 04/01/13 (Lance Garbutt)
Visit the Karesansui Garden in Ryoan-ji Temple, Japan - 07/08/14 (Marsha Roberts)
Eat at the Ninja Resturant in New York - 12/02/10 (Stacy McKee)