Michelle Hudson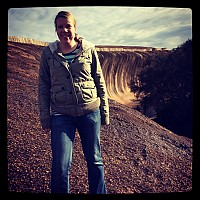 About Michelle:
I love hanging out and going to the beach and surfing even though I'm pretty bad at it. I have had a bucket list since 2005. I'm slowly crossing thing ...read more
Mission Statement:
One day your life will flash before your eyes. Make sure it's worth watching.
Bucket List Item Information
Eat a Smore
"I don't even know what one is but it sounds cool so I want to try it."

Completed on 06/18/2014
"Decided to make Australian s'mores. I used milk arrowroot biscuits, marshmallows and fury friends Cadbury chocolate. I used a lighter to melt the chocolate and marshmallows. It tasted really nice. "

Add This To Your Bucket List
Who Witnessed This Event/Item
Who Else Has This On Their Bucket List
Similiar Bucket List Ideas
Eat a smore cooked over a campfire (to do) - 11/01/11 (Susan F)
Eat different types of food: A Smore - 01/31/14 (Steve Morris)