Stephanie G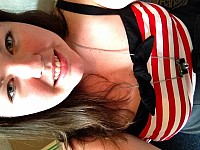 About Stephanie:
I'm a storyteller and a dreamer, I like creating things, writing, taking photos, making plans etc. I want to live a fairytale life but reality is very ...read more
Mission Statement:
The only limits are the ones you put on yourself.
Bucket List Item Information
Sleep under the stars

Completed on 11/11/2010
"Not an experiance I would repeat, I kept hyperventialating and kept thinking the stars were falling out of the sky! I only lasted about thirty minutes before I went back inside."

Add This To Your Bucket List
Who Witnessed This Event/Item
Who Else Has This On Their Bucket List
Similiar Bucket List Ideas
✔see a cluster of stars thru a telescope - 08/31/13 (Lance Garbutt)
Sleep on a houseboat - 04/16/16 (Susan F)
026. Sleep on the beach - (2) people
Own a sailboat and learn to sail (big enough for 4 to sleep on) - 01/10/13 (Tom Metcalf)
Sleep a night in a snow fort I built - 07/08/10 (Diana Giraldo)
✔sing my child to sleep - 08/23/11 (Megan T)
kiss under the stars - (2) people
Kiss beneath the stars - 02/02/12 (Tami K.)
sleep in front of a fireplace - (2) people
Sleep in my car - 12/15/13 (Annabel Taylore)