Misty Hawes-Owen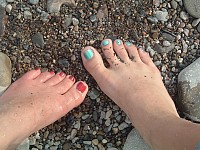 About Misty:
I am a small town Candadian girl with strong roots. I am a 30 something, soon-to-be-divorced, mom of two and writing down my bucket list is a part of ...read more
Mission Statement:
Following my heart. Shamelessly. And without apology to expectation, perceived or real, of friends, family and society. This is my resolve.
Bucket List Item Information
Sleep under the stars
"everyone should have this experience"

Completed on 01/19/2011
"I have done - at least once every summer since I was a kid, I think, and will continue..."

Add This To Your Bucket List
Viewing details are set to Members Only
Who Witnessed This Event/Item
Who Else Has This On Their Bucket List
Similiar Bucket List Ideas
Camp out under the stars - (4) people
Get my dream tattoo (stars down my spine) - 08/20/11 (Tracey Sellars)
Sleep in long grass with a boy - 03/25/11 (casey barakat)
Sleep in the Cappadocia Cave hotel - 07/08/14 (Marsha Roberts)
Go without sleep for 8 days - 11/23/12 (Sabrina Marshall)
182. Sleep in a castle - 06/29/11 (Jirrine Breedijk)
#51 Sleep on a trampoline all night - (2) people
Sleep in a hammock - (62) people
Spend a Whole Night Gazing up at the Stars - (2) people
Sleep on a trampoline - (10) people