Charles Shurlow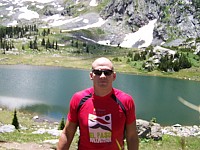 About Charles:
Been running marathons and triathlons for about a year now
Charles's Journal Blog
04/25/2011
Friends Made
Long journey and struggles surpassed, she made some friends along the way that shared the struggle!!!
04/25/2011
FINISHED!
Accomplishment check :) She completed the race, and was happy to be done!!!
04/25/2011
Finally the swim!
She really does well in the pool! The final leg of the trifecta!
Look at the GUSTO that she shows :)
04/25/2011
Transition to the Bike!
She came in up the hill and to the transition area, thankful to be done with the run!
04/25/2011
And They are Off!
This was the beginning of the race, 21 competitors from ages 8-12 years old...
04/25/2011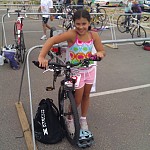 SARAH's FIRST TRIATHLON!!!!!! Spring Fling Apr 23 - ABQ
Sarah completed her first triathlon this weekend! 1.0 mile run, 3 mile bike, and 200m swim! She did awesome!!!
04/08/2011
Florida Trip
More fun in the sun!
04/07/2011
Florida Trip
Bunjee Jumping! Danielle, Anna May, and Taylor :)
04/06/2011
Florida Trip
Danielle and Anna May Paddle Boarding
04/05/2011
Florida Trip
Sarah water Zorbing!
04/04/2011
Florida Trip
Well I met my girls in Florida! We had a great time... Big girls went Bunjee jumping (Daredevils :) and Sarah even conquered her fear and went on the Sky Flyer! Went Paddle Boarding too :) Sarah went water zorbing! Danielle and Taylor rode the tandem bike around.
11/15/2010
Idea
So I was thinking that there will be an increase in the number of small or niche social media sites on the web. These sites will allow for an increase in advertising dollars... Trying to think of a couple good ones - any ideas let me know!
11/14/2010
gPad and gPod
I would love to see a comparable gPod on the market that would compete with the IPod. I can't stand the apple platform! You would think that any one of the smartphone companies out there like HTC and Samsung could come up with a great Android gPod line...
04/18/2011 08:36 pm

What about the Galaxy Tab? As a Sprint rep, I'd totally sell one to you. Or the Blackberry Playbook.