Michelle Hudson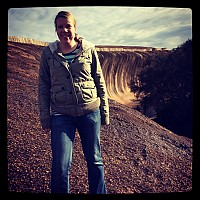 About Michelle:
I love hanging out and going to the beach and surfing even though I'm pretty bad at it. I have had a bucket list since 2005. I'm slowly crossing thing ...read more
Mission Statement:
One day your life will flash before your eyes. Make sure it's worth watching.
Bucket List Item Information
Pull a table cloth from underneath crockery
"Great Party trick."

Completed on 05/20/2014
"I'm very glad I decided to try with plastic crockery first because everything ended up in a pile at my feet. After a few goes I gave up. It would be a cool party trick if you could pull it off. "

Add This To Your Bucket List
Who Witnessed This Event/Item
Who Else Has This On Their Bucket List
Similiar Bucket List Ideas
Pull An All Nighter After I Turn 40 - (2) people
Cement project 5 - make a coffee table - 09/19/16 (Jaimee-Leigh Wignell)
✔Table Tennis - 07/21/14 (Lance Garbutt)
✔VIP Table at Tao Vegas + Limo - 07/19/15 (Corinne ~)
Have Sex: On a Pool Table - 04/13/14 (Steve Morris)
Cement project 11 - make bird table - 09/19/16 (Jaimee-Leigh Wignell)
give my man a bj under the table at a fancy restaurant - 02/13/13 (Bon Joy)
Do at least one pull up - 02/12/13 (Doreena Schuster)
Stand A Top Table Mountain For Beautiful Views - South Africa - 09/18/13 (Lance Garbutt)
pull a fire alarm - (3) people