Susan F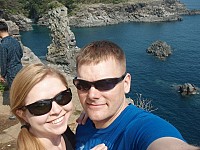 About Susan:
I love to find adventure everywhere. I don't just keep a bucket list, I am always crossing things off. I'm not very picky about my bucket list, if I h ...read more
Mission Statement:
To get as much out of life as I can, try anything at least once, go everywhere I can and don't let a moment slip by. Never say "I wish I would have".
Bucket List Item Information
Go on a pineapple tour in Maui (Maui, Hawaii)
"Take a tour of a pineapple farm with Maui Gold Tours and you will absolutely overdose on the freshest, juiciest pineapple straight from the bush. And your guide will allow you to taste the pineapples at three different levels of ripeness, so you can pick your favorite. "

Add This To Your Bucket List
Viewing details are set to Friends Only
Who Witnessed This Event/Item
Who Else Has This On Their Bucket List
Similiar Bucket List Ideas
See the Tour De France in France - 03/29/14 (Steve Morris)
Take a canopy tour traversing between trees on a Zip Line - (2) people
✔visit maui - 03/03/12 (Elle Leontiev)
See the Tour de France - (3) people
Bike down Maui's Haleakala Mountain at sunrise, Hawaii - 07/08/10 (Diana Giraldo)
✔Go on the harry potter tour london - 03/18/13 (kayleigh fowler)
Mammoth Adventure Tour - 03/31/13 (Lance Garbutt)
Take a dog sledding tour - 03/11/12 (Tami K.)
Ghost Tour New Orleans - 03/14/16 (Stacey Ellis)
Bamboo forest along the Pipiwai trail to Waimoku Fall (Haleakala National Park, Maui, Hawaii) - 03/23/15 (Susan F)