Susan F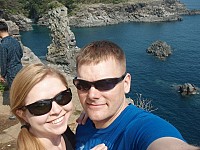 About Susan:
I love to find adventure everywhere. I don't just keep a bucket list, I am always crossing things off. I'm not very picky about my bucket list, if I h ...read more
Mission Statement:
To get as much out of life as I can, try anything at least once, go everywhere I can and don't let a moment slip by. Never say "I wish I would have".
Bucket List Item Information
Ride in a paddle boat

Completed on 07/28/2017
"I went on one for my birthday with my family! It was really hard and we were sweating like crazy but I'm glad we did it!"

Add This To Your Bucket List
Viewing details are set to Friends Only
Who Witnessed This Event/Item
Who Else Has This On Their Bucket List
Similiar Bucket List Ideas
✔Ride an ATV - 05/16/11 (Tiffany Williams)
Participate In The No Pants Subway Ride - 12/12/13 (Lance Garbutt)
✔Ride in the Roue de Paris (Ferris Wheel) (Paris, France) - 11/01/11 (Susan F)
✔Ride The Tube London - 05/27/13 (Lance Garbutt)
Ride the Rocky Mountaineer - (2) people
ride dirt bike - (2) people
039. Ride a Jetski - 06/29/11 (Jirrine Breedijk)
Ride a elephant in Fiji - 11/27/13 (David Teasdell)
ride a zip line - (5) people
Horse and buggy ride - 04/24/12 (Melissa Stoltz)