Susan F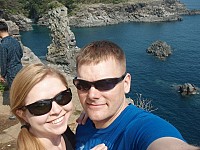 About Susan:
I love to find adventure everywhere. I don't just keep a bucket list, I am always crossing things off. I'm not very picky about my bucket list, if I h ...read more
Mission Statement:
To get as much out of life as I can, try anything at least once, go everywhere I can and don't let a moment slip by. Never say "I wish I would have".
Bucket List Item Information
Finish my daughter's baby book

Completed on 03/12/2016
"I finished it when she was 3! But I still need to order it!"

Add This To Your Bucket List
Viewing details are set to Friends Only
Who Witnessed This Event/Item
Who Else Has This On Their Bucket List
Similiar Bucket List Ideas
✔finish college & receive my degree - 08/21/13 (fcking -a)
Lonely Planet Book - Fiji - 03/30/13 (Lance Garbutt)
finish this list - 09/07/11 (Megan T)
Bike all the 'Beyond Hamsterley' book routes: Elelphant Trees - 04/18/14 (Steve Morris)
Read a book - 08/12/10 (Sr H)
Collect all Robert Rankin First editions: The Mammoth Book of Comic Fantasy - 04/12/14 (Steve Morris)
Red my husband's favorite book and have him read mine - 04/16/16 (Susan F)
Cook every recipe in a cook book - (9) people
reread book of mormon - 08/04/11 (Shay Cook)
58. Babysit my friend's baby for a week - 06/27/11 (Michelle Anne)