Susan F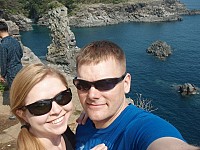 About Susan:
I love to find adventure everywhere. I don't just keep a bucket list, I am always crossing things off. I'm not very picky about my bucket list, if I h ...read more
Mission Statement:
To get as much out of life as I can, try anything at least once, go everywhere I can and don't let a moment slip by. Never say "I wish I would have".
Bucket List Item Information
Attend a Circque Du Soleil Show

Completed on 05/17/2010
"Went to Las Vegas and saw Zumanity, and another one which I didn't like as much. "

Add This To Your Bucket List
Viewing details are set to Friends Only
Who Witnessed This Event/Item
Who Else Has This On Their Bucket List
Similiar Bucket List Ideas
attend a concert at Red Rocks in Colorado - 02/03/12 (anne cecil-kempski)
✔Attend Fesitval of Books - 04/24/11 (j nadonza)
Attend Ozzfest - 07/18/12 (Johnny Gonzales)
Attend Sturgis Motorcycle Rally - 12/28/12 (Miranda Hogan)
Attend a production's wrap party - 07/17/12 (Tami K.)
Attend a University Football game - 07/18/12 (Johnny Gonzales)
Attend a PGA Tour Major - 06/05/11 (Scott Klima)
Attend a fetish party - 08/19/12 (Jess ica)
22. Be a member of the audience of a TV show - (8) people
Attend a live concert of Coldplay or Green Day - 01/28/13 (Ayush Goel)