Susan F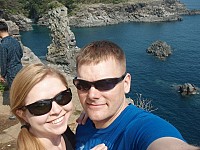 About Susan:
I love to find adventure everywhere. I don't just keep a bucket list, I am always crossing things off. I'm not very picky about my bucket list, if I h ...read more
Mission Statement:
To get as much out of life as I can, try anything at least once, go everywhere I can and don't let a moment slip by. Never say "I wish I would have".
Bucket List Item Information
World's Largest Toy Store, Hamleys (London, England)
"It's flagship London store is set over seven floors, with more than 50,000 toys on sale."

Add This To Your Bucket List
Viewing details are set to Friends Only
Who Witnessed This Event/Item
Who Else Has This On Their Bucket List
Similiar Bucket List Ideas
The largest hot air balloon gathering in the world at dawn in Chambley, France - 05/27/13 (Lance Garbutt)
Shakespeare Theater in London - 06/03/12 (Rebecca Orbegoso)
Red phone booth picture in London - 07/30/10 (AH & LW)
Greenwich Meridian Line (Greenwich, England) - 02/01/15 (Susan F)
Visit the largest aquarium in the world - (2) people
Play hide and seek on a huge store - 06/09/12 (Katie Cramatte)
ZSL London Zoo - 07/08/14 (Lance Garbutt)
See the Changing of the Guard in London - 08/11/10 (Michelle Kerrick-Masayon)
Visit Scotland, Ireland, and England - 07/13/11 (Jim Morrison)
Visit all English Heritage sites: Tower of London - 04/20/14 (Steve Morris)