Susan F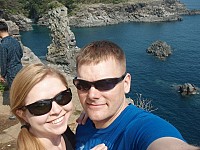 About Susan:
I love to find adventure everywhere. I don't just keep a bucket list, I am always crossing things off. I'm not very picky about my bucket list, if I h ...read more
Mission Statement:
To get as much out of life as I can, try anything at least once, go everywhere I can and don't let a moment slip by. Never say "I wish I would have".
Bucket List Item Information
Crazy horse Statue (Crazy Horse, South Dakota)

Completed on 09/10/2013
"We saw this after we went to Mount Rushmore. It's not complete and they've been building it for a long time. The visitors center is nice but the statue is far from being done. "

Add This To Your Bucket List
Viewing details are set to Friends Only
Who Witnessed This Event/Item
Who Else Has This On Their Bucket List
Similiar Bucket List Ideas
Visit the DMZ, North/South Korea - (2) people
✔Sam Houston Statue (Houston, Texas) - 01/02/16 (Susan F)
Winelands Marathon (South Africa) - 07/30/14 (Lance Garbutt)
Show olive (as close as we can) camp Casey and Dongducheon (Dongducheon, South Korea) - 02/22/15 (Susan F)
✔Fox Glacier, South Island, New Zealand - 02/16/14 (Lance Garbutt)
South Afrika - 04/13/17 (Neal Awayan)
See the Alice in Wonderland statue in Central Park - (6) people
Ride a horse across the beach - (4) people
Visit Captain Cook Memorial Statue in Whitby - 06/15/14 (Steve Morris)
See The Bronze Horseman Statue in St. Petersburg (St. Petersburg, Russia) - 11/22/11 (Susan F)